Pictures from this web page may not be used without permission

of the owner of the website.  Copyright © 2004 KwintoCoins

Sarmatians (or Goths of Crimea)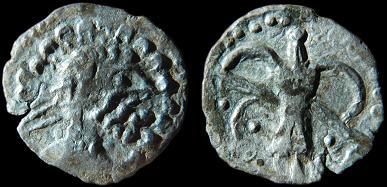 Sarmatians (or Goths in Crimea). 175-200 AD (2-nd series). AR Unit. 18mm, 1.51g. Obv: Barbarized head of Roman emperor with beard facing right, hair in form of crescents, head laureate, crescents (around head) with elongated ends pointing towards head, dots around edge Rev: Warrior standing left, holding a spear, arms in form of semicircles, dot crescent dot below left arm, dot below right arm, dots around the edge Ref: Not listed in Kleshchinov catalog - obverse similar to Kleshchinov 63 (according to Kleshchinov these coins were Sarmatian imitations of Roman Denarii)

Sarmatians (or Goths in Crimea). 175-200 AD (2-nd series). AR Unit. 17mm, 1.06g. Obv:Barbarized head of Roman emperor with beard facing right, head laureate, crescents behind head Rev: Warrior standing right, holding a spear, crescent and cross on each side below arms, two crescents to the left, to the right and below warior, crescent and dot betwen spear and arm on the left, dots (worn) around the edge (?) Ref: Not listed in Kleshchinov catalog(according to Kleshchinov these coins were Sarmatian imitations of Roman Denarii)

Sarmatians (or Goths in Crimea). 175-200 AD (2-nd series). AR Unit. 17mm, 1.06g. Obv: Barbarized head of Roman emperor with beard facing right, hair in form of crescents, head not laureate, rays behind head, crescents with elongated ends on the edge pointing away from head Rev: Warrior standing left, holding a spear, XX (two crosses) lower left field (?), zig-zag in front and above warrior, XXX (three crosses) above warrior's head to the right, short lines on the edge Ref: Not listed in Kleshchinov catalog  - obverse Kleshchinov 80 (according to Kleshchinov these coins were Sarmatian imitations of Roman Denarii)

Sarmatians (or Goths in Crimea). 175-200 AD (2-nd series). AR Unit. 17mm, 1.99g. Obv: Barbarized head of Roman emperor with beard facing right, hair in form of crescents, head laureate, crescents (around head) with elongated ends pointing towards head, dots around edge Rev: Warrior standing right, holding a spear in left arm, arms in form of semicircles, zigzag around warrior, circle or wreath with rays pointing away - under right arm, dots around the edge Ref: Not listed in Kleshchinov catalog (according to Kleshchinov these coins were Sarmatian imitations of Roman Denarii)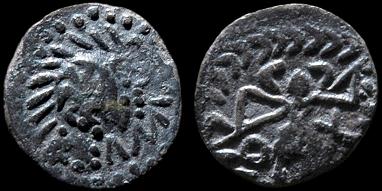 Sarmatians (or Goths in Crimea). 240-300 AD (4-th series). Æ Unit. 19mm, 1.64g. Obv: Barbarized head of Roman emperor with beard facing right, hair in form of crescents, one vertical line in the middle, rays behind head, zigzag at the front of the face and below, dots around the edge. Rev: O low left field X low right field, warrior standing right, holding a spear, head with one crescent on each side, crescents around the edge. Ref: Not listed in Kleshchinov catalog - Æ Unit - similar to Kleshchinov 115 (according to Kleshchinov these coins were Sarmatian imitations of Roman Denarii)

Sarmatians (or Goths in Crimea). 240-300 AD (4-th series). AR Unit. 17mm, 1.42g. Obv: Barbarized head of Roman emperor with beard facing right, hair in form of crescents, two lines in the middle under angle, rays behind head, zigzag at the front of the face and below, dots around the edge. Rev: X low left field O right lower field, warrior standing right, holding a spear, head with one crescent on each side, crescents around the edge. Ref: Kleshchinov 121 (according to Kleshchinov these coins were Sarmatian imitations of Roman Denarii)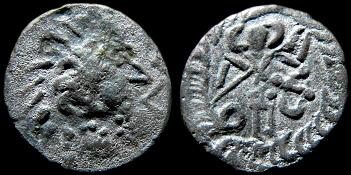 Sarmatians (or Goths in Crimea). 240-300 AD (4-th series). AR Unit. 19mm, 2.15g. Obv: Barbarized head of Roman emperor with beard facing right, hair in form of crescents, one verical line in the middle, rays behind head, zigzag at the front of the face, dots around the edge. Rev: O lower left field, X and Crescent lower right field, warrior standing right, holding a spear, head with one crescent on each side, crescents around the edge. Ref: Not listed in Kleshchinov catalog (according to Kleshchinov these coins were Sarmatian imitations of Roman Denarii)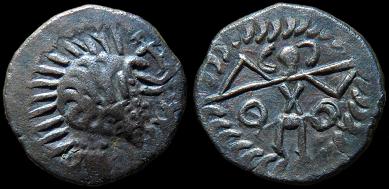 Sarmatians (or Goths in Crimea). 240-300 AD (4-th series). Æ Unit. 18mm, 2.61g. Obv: Barbarized head of Roman emperor with beard facing right, hair in form of crescents, three lines in the middle under angle, rays with few crescents above the head (barely visible) behind head, crescents if front of the face. Rev: O lower field on both sides of warrior standing right, holding a spear, head with one crescent on each side, crescents around the edge. Ref: Not listed in Kleshchinov catalog - similar to Kleshchinov 139 (according to Kleshchinov these coins were Sarmatian imitations of Roman Denarii)

Sarmatians (or Goths in Crimea). 240-300 AD (4-th series). AR Unit. 18mm, 2.52g. Obv: Barbarized head of Roman emperor with beard facing right, hair in form of crescents, rays behind head, five vertical lines in the middle, zigzag at the front and bottom of the face, dots around the edge. Rev: O lower field on both sides of warrior standing right, holding a spear, head without crescents on each side, crescents around the edge. Ref: Not listed in Kleshchinov catalog - similar to Kleshchinov 141 (according to Kleshchinov these coins were Sarmatian imitations of Roman Denarii)

Sarmatians (or Goths in Crimea). 240-300 AD (4-th series). AR Unit. 18mm, 1.92g. Obv: Barbarized head of Roman emperor with beard facing right, hair in form of crescents, three lines in the middle under angle, rays behind head, zigzag at the front and bottom of the face, dots arond the edge. Rev: O lower field on both sides of warrior standing right, holding a spear, head with one crescent on each side, crescents around the edge. Ref: Kleshchinov 142 (according to Kleshchinov these coins were Sarmatian imitations of Roman Denarii)

Sarmatians (or Goths in Crimea). 240-300 AD (4-th series). AR Unit. 18mm, 1.71g. Obv: Barbarized head of Roman emperor with beard facing right, hair in form of crescents, three lines in the middle under angle, rays behind head, zigzag at the front and bottom of the face, dots around the edge. Rev: O lower field (right not well visible- mint issue) on both sides of warrior standing right, holding a spear, head without crescents on the sides of the head, crescents around the edge. Ref: Kleshchinov 151 (according to Kleshchinov these coins were Sarmatian imitations of Roman Denarii)

Sarmatians (or Goths in Crimea). 240-300 AD (4-th series). Æ Unit 18mm, 1.79g. Obv: Barbarized head of Roman emperor with beard facing right, hair in form of crescents, three lines in the middle under angle, rays behind head, crescents at the front of the face. Rev: O and two dots lower left field, O lower right field on sides of warrior standing right, holding a spear, head with one crescent on each side, crescents around the edge. Ref: Kleshchinov 369 NOTE: this type is listed under 5-th series in the catalog (according to Kleshchinov these coins were Sarmatian imitations of Roman Denarii)

Sarmatians (or Goths in Crimea). 240-300 AD (4-th series). AR Unit 18mm, 1.77g. Obv: Barbarized head of Roman emperor with beard facing right, hair in form of crescents, one horizontal and one vertical line in the middle, rays behind head, zigzag at the front of the face, dots around edge. Rev: O lower left and right field on sides of warrior standing right, holding a spear, head with one crescent on each side, no row of crescents in the upper field on the left side of the head, crescents around the edge. Ref: Not listed in Kleshchinov catalog - similar to Kleshchinov 157 (according to Kleshchinov these coins were Sarmatian imitations of Roman Denarii)

Sarmatians (or Goths in Crimea). 240-300 AD (4-th series). AR Unit 18mm, 2.45g. Obv: Barbarized head of Roman emperor with beard facing right, hair in form of crescents, three vertical lines in the middle, neck in the form of dots, zigzag above and front of the face, rays and dots on edge behind head. Rev: O lower left and X lower right field on sides of warrior standing right, holding a spear, head with one crescent on each side, crescents around the edge. Ref: Kleshchinov 158 (according to Kleshchinov these coins were Sarmatian imitations of Roman Denarii)

Sarmatians (or Goths in Crimea). 240-300 AD (4-th series). AR Unit 17mm, 2.02g. Obv: Barbarized head of Roman emperor with beard facing right, hair in form of crescents, three vertical lines in the middle, neck in the form of dots, zigzag at the front of the face, rays and dots on edge behind head.  Rev: X lower left and right field on sides of warrior standing right, holding a spear, large X in the middle of the body, head with one crescent on each side, crescents around the edge. Ref: Not listed in Kleshchinov catalog - similar to Kleshchinov 161 (according to Kleshchinov these coins were Sarmatian imitations of Roman Denarii)

Sarmatians (or Goths in Crimea). 240-300 AD (4-th series). AR Unit 18mm, 1.99g. Obv: Barbarized head of Roman emperor with beard facing right, hair in form of crescents, three vertical lines in the middle(?), neck in the form of dots, zigzag above and front of the face, rays and dots on edge behind head. Rev: X lower left and right field on sides of warrior standing right, holding a spear, small X in the middle of the body (?), head with one crescent on each side (?), crescents around the edge. Ref: Kleshchinov 162(?) (according to Kleshchinov these coins were Sarmatian imitations of Roman Denarii)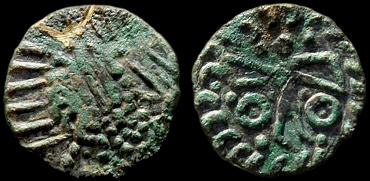 Sarmatians (or Goths in Crimea). 240-300 AD (4-th series). Æ Unit. 18mm, 2.02g. Obv: Barbarized head of Roman emperor with beard facing right, hair in form of crescents, three lines in the middle under angle, rays above and behind head, zigzag if front of the face Rev: 4 dots and O with a dot at the center in lower left field, 2 dots and O with a dot at the center in lower right field on both sides of warrior standing right, holding a spear, head with one dot on each side, crescents around the edge. Ref: Not listed in Kleshchinov catalog - similar to Kleshchinov 375 - this type is listed under 5-th series in catalog (according to Kleshchinov these coins were Sarmatian imitations of Roman Denarii)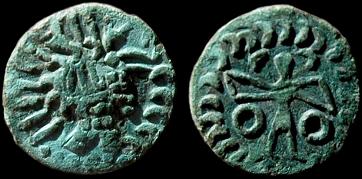 Sarmatians (or Goths in Crimea). 240-300 AD (4-th series). Æ Unit. 18mm, 2.36g. Obv: Barbarized head of Roman emperor with beard facing right, hair in form of crescents, three vertical lines in the middle, nose split, rays above and behind head, crescents if front of the face, dots on the edge above, behind and below head Rev: O O lower field on both sides of warrior standing right, holding a spear, no dots between arms and spear, head with one crescent on each side, crescents around the edge, dots on the edge to the right. Ref: Not listed in Kleshchinov catalog - similar to Kleshchinov 378 - this type is listed under 5-th series in catalog

Sarmatians (or Goths in Crimea). 240-300 AD (4-th series). Æ Unit 18mm, 1.35g. Obv: Barbarized head of Roman emperor with beard facing right, hair in form of crescents, vertical line in front of face, nose split, rays behind head, crescents at the front and bottom of the face Rev: O lower field on both sides of warrior standing right, holding a spear, dots between arms and spear, head with one crescent on each side, crescents around the edge. Ref: Kleshchinov 381. NOTE: this type is listed under 5-th series in the catalog (according to Kleshchinov these coins were Sarmatian imitations of Roman Denarii)

Sarmatians (or Goths in Crimea). 240-300 AD (4-th series). AR Unit. 21mm, 2.56g. Obv: Barbarized head of Roman emperor with beard facing right, hair in form of crescents, three horizontal lines in the middle, rays behind head, zigzag at the front and bottom of the face, dots around the edge. Rev: O lower field on both sides of warrior standing left, holding a spear, head with one crescent on each side, crescents around the edge. Ref: Kleshchinov 171 (according to Kleshchinov these coins were Sarmatian imitations of Roman Denarii)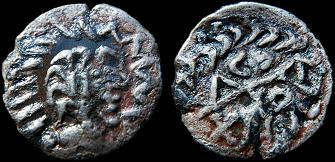 Sarmatians (or Goths in Crimea). 240-300 AD (4-th series). AR Unit. 19mm, 2.14g. Obv: Barbarized head of Roman emperor facing right, hair in form of crescents, two vertical lines in the middle, rays behind head, zigzag at the front, dots around the edge. Rev: X low left field, O right upper field, warrior standing left, holding a spear, head with two dots as eyes with crescent to the left, crescents around the edge. Ref: Kleshchinov 193 (according to Kleshchinov these coins were Sarmatian imitations of Roman Denarii)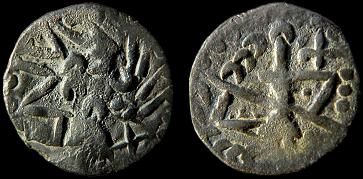 Sarmatians (or Goths in Crimea). 240-300 AD (4-th series). Æ Unit. 18mm, 1.54g. Obv: Barbarized head of Roman Emperor with beard (in form of crescents) facing right, hair in form of crescents, cross below, zigzag behind and rays in front of head, dots around the edge Rev: Three crescents upper left field, X upper right field on sides of warrior standing left, holding a spear, head in form of a crescent, dots between arms and spear, three dots to side and one dot below right arm, crescents around the edge. Ref: Not listed in Kleshchinov catalog - similar to Kleshchinov 246 (according to Kleshchinov these coins were Sarmatian imitations of Roman Denarii)

Sarmatians (or Goths in Crimea). 240-300 AD (4-th series). AR Unit 19mm, 2.38g. Obv: Barbarized head of Roman Emperor with beard (in form of crescents) facing right, hair in form of lines(?), cross below beard, rays behind head, dots at the edge Rev: Two crescents upper left field, one crescent upper right field on sides of warrior standing left, holding a spear, X lower right field on side of the warrior, crescents around the edge. Ref: Not listed in Kleshchinov catalog (according to Kleshchinov these coins were Sarmatian imitations of Roman Denarii)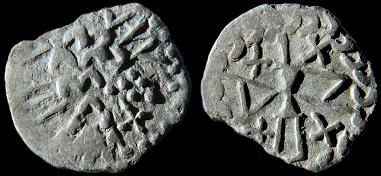 Sarmatians (or Goths in Crimea). 240-300 AD (4-th series). AR Unit. 18mm, 1.60g. Obv: Barbarized head of Roman Emperor with beard (in form of dots) facing right within upper part of face as zigzag, hair in form of crescents, cross below, dots around the edge Rev: X upper field, X lower field on both sides of warrior standing left, holding a spear, crescents around the edge. Ref: Not listed in Kleshchinov catalog - crescents on reverse - similar to Kleshchinov 240 (according to Kleshchinov these coins were Sarmatian imitations of Roman Denarii)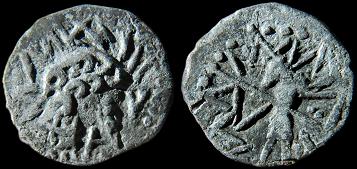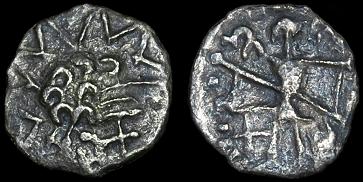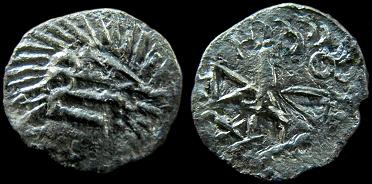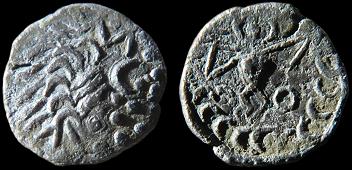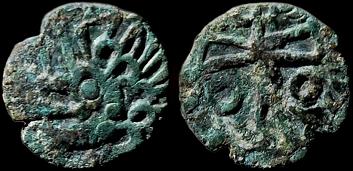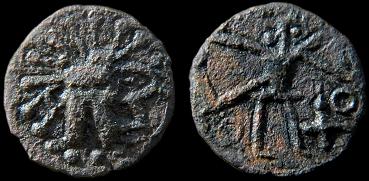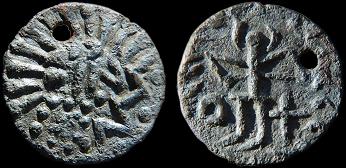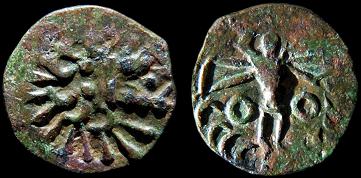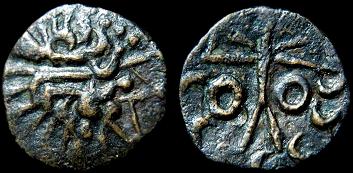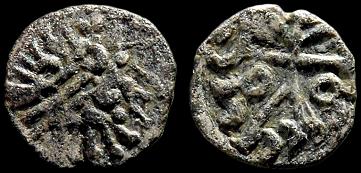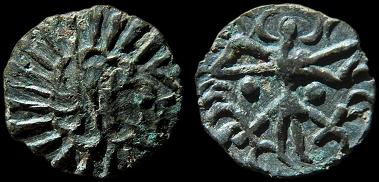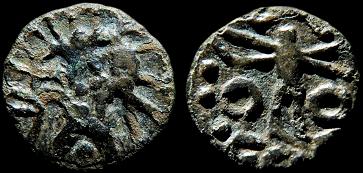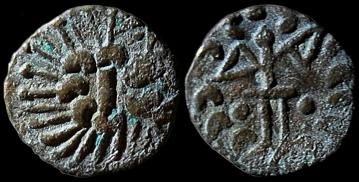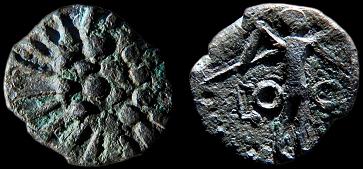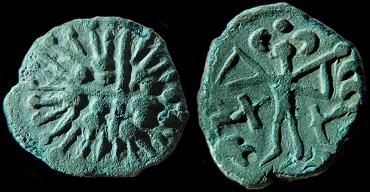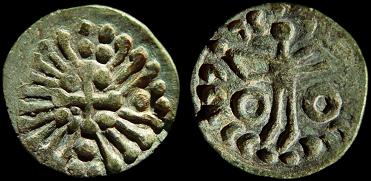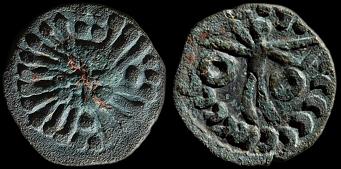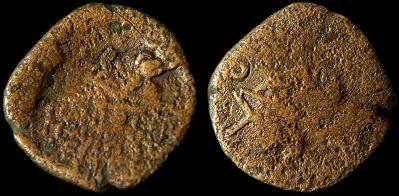 Sarmatians (or Goths in Crimea). 240-300 AD (4-th series). AR Unit. 19mm, 1.82g. Obv: Barbarized head of Roman Emperor with beard facing right within zigzag above and behind, hair in form of crescents, cross above and two crosses below head, dots around the edge Rev: Warrior standing left, holding a spear, two dots between right arm and spear, zigzag around, dots around the edge. Ref: Not listed in Kleshchinov catalog - similar to Kleshchinov 242 (according to Kleshchinov these coins were Sarmatian imitations of Roman Denarii)

Sarmatians (or Goths in Crimea). 240-300 AD (4-th series). AR Unit. 17mm, 1.91g. Obv: Barbarized head of Roman Emperor with beard (in form of lines) facing right within zigzag, hair in form of crescents, cross below, no dots on the edge? Rev: X lower field on both sides of warrior standing left, holding a spear, dots around the edge, something in front of warior - 2 crescents or a bow? Ref: Not listed in Kleshchinov catalog (according to Kleshchinov these coins were Sarmatian imitations of Roman Denarii)

Sarmatians (or Goths in Crimea). 240-300 AD (4-th series). AR Unit. 17mm, 1.22g. Obv: Barbarized head of Roman Emperor with beard (in form of lines) facing right within zigzag, hair in form of crescents, two crosses below, dots around the edge. Rev: X lower field on both sides of warrior standing left holding a spear, dot between each arm and spear, crescent above right arm, two dots between legs, dots around the edge Ref: Kleshchinov 248 (according to Kleshchinov these coins were Sarmatian imitations of Roman Denarii)

Sarmatians (or Goths in Crimea). 240-300 AD (4-th series). AR Unit. 19mm, 1.90g. Obv: Barbarized head of Roman Emperor with beard (in form of dots - lower right field, barely visible) facing right, hair in form of crescents, three horizontal lines in the middle, rays up behind and below head Rev: O upper right field, X lower left field, O lower right field on sides of a warrior standing left, holding a spear, head with one crescent on each side, crescents on the edge. Ref: Not listed in Kleshchinov catalog - similar to Kleshchinov 255 (according to Kleshchinov these coins were Sarmatian imitations of Roman Denarii)

Sarmatians (or Goths in Crimea). 240-300 AD (4-th series). AR Unit. 16mm, 1.30g. Obv: Barbarized head of Roman Emperor with beard in form of dots facing right, rays up behind and below head Rev: Warrior standing, legs spread and bent in the knees, lower part of body extended down ending with dot with one crescent on each side, holding a spear, arc with bends to the left and right above head (?). Ref: Not listed in Kleshchinov catalog - obverse Kleshchinov 316, reverse similar to Kleshchinov 315 (according to Kleshchinov these coins were Sarmatian imitations of Roman Denarii)

Sarmatians (or Goths in Crimea). 240-300 AD (4-th series). AR Unit. 17mm, 1.34g. Obv:Barbarized head of Roman Emperor facing right, hair in form of crescents, rays ending with dots above behind and below head, zigzag and dots in front of head (barely visible). Rev: X lower left field and dot lower right field on sides of warrior standing left, holding a spear, head with one vertical line on each side and one horizontal above (barely visible on the edge), crescents and dots around the edge Ref: Not listed in Kleshchinov catalog - similar to Kleshchinov 331 (according to Kleshchinov these coins were Sarmatian imitations of Roman Denarii)

Sarmatians (or Goths in Crimea). 240-300 AD (4-th series). Æ Unit. 18mm, 2.03g. Obv: Barbarized head of Roman Emperor facing right (?). Rev: O lower field on both sides of warrior standing right, holding a spear, arms and spear in form of parallel lines, dot above left arm, head with one vertical line on each side, crescents around the edge Ref: Kleshchinov ? (according to Kleshchinov these coins were Sarmatian imitations of Roman Denarii)

Sarmatians (or Goths in Crimea). 240-300 AD (4-th series). Æ Unit. 18mm, 2.43g. Obv: Elements of barbarized head of Roman Emperor (with short face) facing right, hair in form of crescents, crescents below head, rays above behind and below, dots in front (only two visible, other worn) Rev: O lower field on both sides of warrior standing right, holding a spear, head with one crescent on each side, crescents around the edge Ref: Not listed in Kleshchinov catalog Variant #1 (face short)- similar to Kleshchinov 338 (according to Kleshchinov these coins were Sarmatian imitations of Roman Denarii)

Sarmatians (or Goths in Crimea). 240-300 AD (4-th series). AR Unit 18mm, 2.45g Obv: Elements of barbarized head of Roman emperor facing right, hair in form of crescents, rays behind hair, dots in the lower r. corner (forming beard and nose?), bigger crescent upper r. with dots in front, zig-zag above head Rev: O lower field on both sides of warrior facing, legs bent, holding a spear, head with one crescent on each side, crescents around the edge Ref: Unlisted variant AR Unit - similar to Kleshchinov 342 (according to Kleshchinov these coins were Sarmatian imitations of Roman Denarii)

Sarmatians (or Goths in Crimea). 240-300 AD (4-th series). Æ Unit. 17mm, 2.24g Obv: Barbarized head of Roman emperor(?) facing left, rays behind Rev: O in the lower field on both sides of warrior standing left holding a spear, crescents around the edge Ref: Kleshchinov 352 (according to Kleshchinov these coins were Sarmatian imitations of Roman Denarii)

Sarmatians (or Goths in Crimea). 300-350 AD (5-th series). Æ Unit. 16mm, 1.22g Obv: Barbarized head of Roman emperor(?) facing right in the form of Rosette (?) circle with dot in the middle, rays behind, dot in front and second dot above (where the hole is) Rev: O with dots inside in the lower field on both sides of warrior standing right holding a spear, crescents around the edge Ref: Kleshchinov 383 (according to Kleshchinov these coins were Sarmatian imitations of Roman Denarii)

Sarmatians (or Goths in Crimea). 300-350 AD (5-th series). AR Unit. 18mm, 2.54g. Obv: Barbarized head of Roman Emperor facing right, hair in form of crescents, face in form of zigzag, three horizontal lines in the middle, neck in form of two very thick vertical lines, rays ending with dots above(?) behind and below head. Rev: O lower field on both sides of warrior standing left, holding a spear, crescents around the edge Ref: Not listed in Kleshchinov catalog (according to Kleshchinov these coins were Sarmatian imitations of Roman Denarii)

Sarmatians (or Goths in Crimea). 300-350 AD (5-th series). Æ Unit 18mm, 2.03g Obv: Barbarized head of Roman emperor facing right, hair in form of crescent (visible at the back of head), face in form of zigzag, two very thick horizontal lines in the middle, neck in form of two very thick vertical lines, rays ending with dots above and behind head, dots below head, two dots in front of the face Rev: O lower left field and O X lower right field on sides of warrior standing right holding a spear, head with one dot on each side, crescents or dots around the edge(?) Ref: Not listed in Kleshchinov catalog (according to Kleshchinov these coins were Sarmatian imitations of Roman Denarii)

Sarmatians (or Goths in Crimea). 300-350 AD (5-th series). Æ Unit 19mm, 1.79g Obv: Barbarized head of Roman emperor facing right, hair in form of crescents, face in form of zigzag, two vertical lines in the middle, neck in form of dots, rays ending with dots around head, two dots in front of the face Rev: O lower left field and X lower right field on sides of warrior standing left holding a spear, head with one crescent on each side, crescents and dots around the edge Ref: Not listed in Kleshchinov catalog (according to Kleshchinov these coins were Sarmatian imitations of Roman Denarii)

Sarmatians (or Goths in Crimea). 300-350 AD (5-th series). Æ Unit 19mm, 2.14g Obv: Barbarized head of Roman emperor with beard facing right, hair in form of crescents, two vertical lines in the middle, rays ending with dots around head Rev: O lower field on both sides of warrior standing left holding a spear, crescents and dots around the edge Ref: Kleshchinov 397 (according to Kleshchinov these coins were Sarmatian imitations of Roman Denarii)

Sarmatians (or Goths in Crimea). 300-350 AD (5-th series). Æ Unit 17mm, 1.54g Obv: Barbarized head of Roman emperor with beard in form of crescents facing right, hair in form of dots on top and crescents in the back, rays ending with dots around head Rev: O lower left field, X lower right field on sides of warrior standing left holding a spear, dots around the edge Ref: Not listed in Kleshchinov catalog (according to Kleshchinov these coins were Sarmatian imitations of Roman Denarii)

Sarmatians (or Goths in Crimea). 300-350 AD (5-th series). Æ Unit 17mm, 1.68g Obv: Barbarized head of Roman emperor with beard facing right, hair and beard in form of rosette made of crescents and dot in the middle, rays ending with dots above, behind and below head Rev: Two dots lower left field, one dot lower right field on sides of warrior standing left holding a spear, head with a crescent on right side and dot on left side and a crescent above head, crescents around the edge Ref: Kleshchinov 406 (according to Kleshchinov these coins were Sarmatian imitations of Roman Denarii)

Sarmatians (or Goths in Crimea). 300-350 AD (5-th series). Æ Unit 18mm, 2.19g Obv: Barbarized head of Roman emperor with beard facing right (in form of dots), hair in form of crescents, two dots in the middle, rays ending with dots behind and below head Rev: O lower field on both sides of warrior standing right holding a spear, head with one crescent on each side, crescents around the edge Ref: Not listed in Kleshchinov catalog- similar to Kleshchinov 402 (according to Kleshchinov these coins were Sarmatian imitations of Roman Denarii)

Sarmatians (or Goths in Crimea). 300-350 AD (5-th series). Æ Unit 18mm, 1.55g Obv: Something that resembles barbarized head of Roman emperor facing right with beard represented by dots, hair in form of crescents or dots (?), rays around ending with dots Rev: Dot lower left and right field on both sides of warrior standing left holding a spear, head with one crescent on each side, crescents around the edge, dots below feet. Ref: Not listed in Kleshchinov catalog - similar to Kleshchinov 517 (according to Kleshchinov these coins were Sarmatian imitations of Roman Denarii)

Sarmatians (or Goths in Crimea). 300-350 AD (5-th series). AR Unit 17mm, 1.64g Obv: Barbarized head of Roman emperor facing right, hair in form of dots, rays around the head Rev: O lower left field, cross and two dots lower right field on both sides of warrior standing right holding a spear, crescents and dots around the edge Ref: Not listed in Kleshchinov catalog - similar to Kleshchinov 415 (according to Kleshchinov these coins were Sarmatian imitations of Roman Denarii)

Sarmatians (or Goths in Crimea). 300-350 AD (5-th series). Æ Unit 19mm, 2.57g Obv: Barbarized head of Roman emperor facing right, hair in form of crescent, two vertical lines in the middle, rays ending with dots behind, above and below head, two dots in front of the head Rev: dot and O lower left field, dot and X lower right field on sides of warrior standing left holding a spear, one dot above each arm, head with one crescent on each side and dot above, crescents bending towards the right and dots around the edge Ref: Specimen #1 Not listed in Kleshchinov catalog - similar to Kleshchinov 425 (according to Kleshchinov these coins were Sarmatian imitations of Roman Denarii)

Sarmatians (or Goths in Crimea). 300-350 AD (5-th series). Æ Unit 18mm, 2.42g Obv: Barbarized head of Roman emperor facing right, hair in form of crescent, two vertical lines in the middle, rays ending with dots behind, above and below head, two dots in front of the head Rev: dot and O lower left field, dot and X lower right field on sides of warrior standing left holding a spear, one dot above each arm, head with one crescent on each side and dot above, crescents bending towards the right and dots around the edge Ref: Specimen #2 (like above) Not listed in Kleshchinov catalog - similar to Kleshchinov 425 (according to Kleshchinov these coins were Sarmatian imitations of Roman Denarii)

Sarmatians (or Goths in Crimea). 300-350 AD (5-th series). Æ Unit 19mm, 2.09g Obv: Barbarized head of Roman emperor facing right, hair in form of crescent, two vertical lines in the middle, rays ending with dots behind, above and below head, two dots in front of the head Rev: O lower left field, X lower right field on sides of warrior standing left holding a spear, head with one crescent on each side, crescents and dots around the edge Ref: Kleshchinov 428 Specimen #1 (according to Kleshchinov these coins were Sarmatian imitations of Roman Denarii)

Sarmatians (or Goths in Crimea). 300-350 AD (5-th series). Æ Unit 18mm, 1.50g Obv: Barbarized head of Roman emperor facing right, hair in form of crescent, two vertical lines in the middle, rays ending with dots behind, above and below head, two dots in front of the head Rev: O lower left, Crescent (?) and X lower right field on sides of warrior standing left holding a spear, head with one crescent on each side, only crescents (?) around the edge Ref: Not listed in Kleshchinov catalog (?) or Kleshchinov 428 (according to Kleshchinov these coins were Sarmatian imitations of Roman Denarii)

Sarmatians (or Goths in Crimea). 300-350 AD (5-th series). Æ Unit 17mm, 1.39g Obv: Barbarized head of Roman emperor facing right, two vertical lines in the middle, rays ending with dotrs behind head Rev: Three dots in lower left field and one dot in lower right field on both sides of warrior standing left holding a spear, head with one crescent on each side, crescents around the edge. Ref: Not listed in Kleshchinov catalog (no crescents representing hair)- similar to Kleshchinov 466 (according to Kleshchinov these coins were Sarmatian imitations of Roman Denarii)

Sarmatians (or Goths in Crimea). 300-350 AD (5-th series). Æ Unit 17mm,1.80g Obv: Barbarized head of Roman emperor facing right, hair in form of crecents, three horizotal lines in the middle, front of the face in the form of zigzag with one dot representing eye, row of three dots above head, rays ending with dotrs behind head Rev: O lower field on both sides of warrior standing left holding a spear, head with one crescent on each side (worn), crescents around the edge. Ref: Kleshchinov 436 (according to Kleshchinov these coins were Sarmatian imitations of Roman Denarii)

Sarmatians (or Goths in Crimea). 240-300 AD (4-th series). AR Unit. 19mm, 2.05g. Obv:Barbarized head of Roman emperor facing right, hair in form of crescents, three lines under angle in the middle extending behind head, beard in form of dots, rays above head, front of the face in the form of zigzag, one dot representing eye, two dots above the head, rays ending with dots below head, dots around the edge. Rev: O low field on both sides of warrior standing left, holding a spear, head with one crescent on each side, crescents around the edge. Ref: Not listed in Kleshchinov catalog (according to Kleshchinov these coins were Sarmatian imitations of Roman Denarii)

Sarmatians (or Goths in Crimea). 300-350 AD (5-th series). Æ Unit 20mm, 2.19g Obv: Barbarized head of Roman emperor facing right, hair in form of crescents, two lines under angle in the middle, rays ending with dots above behind and below head Rev: one dot lower field on both sides of warrior standing left holding a spear, head with one crescent on each side, crescents around the edge. Ref: Kleshchinov 458 (according to Kleshchinov these coins were Sarmatian imitations of Roman Denarii)

Sarmatians (or Goths in Crimea). 300-350 AD (5-th series). Æ Unit 18mm, 1.74g Obv: Barbarized head of Roman emperor facing right, hair in form of crescents (rosette), two vertical lines at the center, rays ending with dots above behind and below head Rev: dot and X lower field on both sides of warrior standing right holding a spear, head with one crescent on each side, crescents around the edge. Ref: Not listed in Kleshchinov catalog - similar to Kleshchinov 450 (according to Kleshchinov these coins were Sarmatian imitations of Roman Denarii)

Sarmatians (or Goths in Crimea). 300-350 AD (5-th series). Æ Unit 19mm, 2.09g Obv: Barbarized head of Roman emperor facing right, hair in form of crescents, one horizontal line in the middle, zigzag in front and above the face, rays ending with dotrs behind head Rev: O lower field on both sides of warrior standing left holding a spear, head with one crescent on each side, crescents around the edge. Ref: Kleshchinov 439 (according to Kleshchinov these coins were Sarmatian imitations of Roman Denarii)

Sarmatians (or Goths in Crimea). 300-350 AD (5-th series). Æ Unit 18mm, 1.97g Obv: Barbarized head of Roman emperor facing right, beard in form of crescents, front of the face in the form of zigzag with dots above, two lines in the middle under angle, rays ending with dots above behind and below head Rev: OX lower field on both sides of warrior standing right holding a spear, crescent on left and dot on right side of the head, crescents around the edge. Ref: Not listed in Kleshchinov catalog (according to Kleshchinov these coins were Sarmatian imitations of Roman Denarii)

Sarmatians (or Goths in Crimea). 300-350 AD (5-th series). Æ Unit 16mm,1.24g Obv: Barbarized head of Roman emperor facing right, hair in form of crescents behind middle part, rays around Rev: Dot (?) and O lower left field, O lower right field on sides of warrior standing facing holding a spear, head with one crescent on each side, dots around the edge(?). Ref: Not listed in Kleshchinov catalog (according to Kleshchinov these coins were Sarmatian imitations of Roman Denarii)

Sarmatians (or Goths in Crimea). 300-350 AD (5-th series). Æ Unit 17mm, 1.53g Obv: Something that resembles barbarized head of Roman emperor facing right, horizontal dots in the middle, crescents around middle part, dot in front, rays around Rev: O lower field on both sides of warrior standing right holding a spear, arc with bends to the left and right above head, dots above arc, dots around the edge Ref: Kleshchinov 500 Variant #1- dots arond the edge on reverse (according to Kleshchinov these coins were Sarmatian imitations of Roman Denarii)

Sarmatians (or Goths in Crimea). 300-350 AD (5-th series). Æ Unit 16mm,1.20g Obv: Something that resembles barbarized head of Roman emperor facing right, horizontal dots in the middle, crescents around middle part, dot in front, rays around Rev: O lower field on both sides of warrior standing right holding a spear, arc with bends to the left and right above head, dots above arc, dots and crescents around the edge Ref: Kleshchinov 500 Variant #2 - dots and crescents around the edge on reverse (according to Kleshchinov these coins were Sarmatian imitations of Roman Denarii)

Sarmatians (or Goths in Crimea). 300-350 AD (5-th series). Æ Unit 17mm, 1.68g Obv: Something that resembles barbarized head of Roman emperor facing right in form of rosette made of dots, two or three dots horizontal at the center, rays above, behind and below, dots in front Rev: O (without a dot at the center) in lower field on both sides of warrior standing right holding a spear, arc with bends to the left and right above head, dots above arc, dots and crescents around the edge Ref: Not listed in Kleshchinov catalog - similar to Kleshchinov 454 (according to Kleshchinov these coins were Sarmatian imitations of Roman Denarii)

Sarmatians (or Goths in Crimea). 300-350 AD (5-th series). Æ Unit 17mm,1.86g Obv: Something that resembles barbarized head of Roman emperor facing right, rays around, two dots bottom and in upper field, zigzag in front Rev: O lower left field and two dots lower right field on sides of warrior standing left holding a spear, head with one crescent on each side, dots and crescents around the edge Ref: Kleshchinov 470 (according to Kleshchinov these coins were Sarmatian imitations of Roman Denarii)

Sarmatians (or Goths in Crimea). 300-350 AD (5-th series). Æ Unit 14mm, 0.80g Obv: Something that resembles barbarized head of Roman emperor facing right, crescents around middle part, rays ending with dots around Rev: O lower left, X lower right field on sides of warrior standing left holding a spear, head with one crescent on each side, crescents around the edge Ref: Not listed in Kleshchinov catalog (according to Kleshchinov these coins were Sarmatian imitations of Roman Denarii)

Sarmatians (or Goths in Crimea). 300-350 AD (5-th series). Æ Unit 17mm,1.77g Obv: Something that resembles barbarized head of Roman emperor facing right, crescents around middle part (?), rays ending with dots around Rev: O lower left, Crescent and X lower right field on sides of warrior standing left holding a spear, head with one crescent on each side, crescents around the edge Ref: Not listed in Kleshchinov catalog (according to Kleshchinov these coins were Sarmatian imitations of Roman Denarii)

Sarmatians (or Goths in Crimea). 300-350 AD (5-th series). Æ Unit 17mm, 1.86g Obv: Something that resembles barbarized head of Roman emperor facing right, in form of rosette made of crescents, vertical line at the center, rays around ending with dots, zigzag in front Rev: dots lower field on both sides of warrior standing left holding a spear, head with one crescent on each side and dot above head, crescents around the edge Ref: Not listed in Kleshchinov catalog - Reverse Kleshchinov 506 (according to Kleshchinov these coins were Sarmatian imitations of Roman Denarii)

Sarmatians (or Goths in Crimea). 300-350 AD (5-th series). Æ Unit 17mm, 1.68g Obv: Something that resembles barbarized head of Roman emperor in form of dots arranged in circular shape at the center, dots to the right representing nose and mouth or beard, rays above behind and below Rev: O in lower field on both sides of warrior standing right holding a spear, crescents around the edge Ref: Kleshchinov 520 (according to Kleshchinov these coins were Sarmatian imitations of Roman Denarii)

Sarmatians (or Goths in Crimea). 300-350 AD (5-th series). Æ Unit 17mm, 1.54g Obv: Dots arranged in circlurar shape at the center, rays ending with dots around Rev: O in lower field on both sides of warrior standing right holding a spear, dots around the edge Ref: Not listed in Kleshchinov catalog - obverse similar to Kleshchinov 473, reverse to 478 (according to Kleshchinov these coins were Sarmatian imitations of Roman Denarii)

Sarmatians (or Goths in Crimea). 300-350 AD (5-th series). Æ Unit 16mm, 1.23g Obv: Circle with four dots in the middle, rays ending with dots around Rev: Dot in lower left field, dot and O in lower right field on sides of warrior standing right holding a spear, head with crescent on the left and dot on the right side, dots around the edge (?) Ref: Not listed in Kleshchinov catalog (according to Kleshchinov these coins were Sarmatian imitations of Roman Denarii)

Sarmatians (or Goths in Crimea). 300-350 AD (5-th series). Æ Unit 20mm, 1.93g Obv: Something that resembles barbarized head of Roman emperor facing right-? (cross at the center, dots around it, dots to the right representing beard ?), rays around ending with dots Rev: Dot and something resembling letter T in lower left field, upside down letter L in lower right field on both sides of warrior standing left holding a spear, head with one crescent on each side and dot above head, dots and crescents around the edge Ref: Kleshchinov 484 (according to Kleshchinov these coins were Sarmatian imitations of Roman Denarii)

Sarmatians (or Goths in Crimea). 300-350 AD (5-th series). Æ Unit 19mm, 2.12g Obv: Something that resembles barbarized head of Roman emperor facing right-? (cross at the center, dots around it, dots above and below arms, dots to the right representing beard ?), rays around ending with dots Rev: X in lower field on both sides of warrior standing left holding a spear, head with one crescent on each side and dot above head, crescents around the edge Ref: Kleshchinov 485 (according to Kleshchinov these coins were Sarmatian imitations of Roman Denarii)

Sarmatians (or Goths in Crimea). 300-350 AD (5-th series). AR Unit 17mm, 1.28g Obv: Something that resembles barbarized head of Roman emperor facing right-? (cross at the center, dots around it, dots above and below arms, dots to the right representing beard ?), rays around ending with dots Rev: Two dots and X in lower left field, dot and O lower right field on sides of warrior standing left holding a spear, dot between each arm and spear, head with one crescent on each side and dot above head, crescents around the edge Ref: Not listed in Kleshchinov catalog (according to Kleshchinov these coins were Sarmatian imitations of Roman Denarii)

Sarmatians (or Goths in Crimea). 300-350 AD (5-th series). Æ Unit 19mm, 2.04g Obv: Cross at the center, arms ending with dots, 1 dot left and 1 dot right above arms, 2 dots left and 1 dot right below arms, rays ending with dots around - broken with dots right (3 dots), below (3 dots), and above (4 dots). Rev: O in lower fields on both sides of warrior standing left holding a spear, head with one crescent on each side and dot above head, two dots below feet, crescents around the edge half to the right, half to the left Ref: Kleshchinov 486 (according to Kleshchinov these coins were Sarmatian imitations of Roman Denarii)

Sarmatians (or Goths in Crimea). 300-350 AD (5-th series). Æ Unit 19mm, 2.10g Obv: Cross at the center, arms ending with dots, 1 dot left and 1 dot right above arms, 2 dots left and 1 dot right below arms, rays ending with dots around - broken with dots right (4 dots), below (3 dots) and above (4 dots) Rev: O in lower fields on both sides of warrior standing right holding a spear, head with one crescent on each side and dot above head, crescents all to the right around the edge Ref: Not listed in Kleshchinov catalog (according to Kleshchinov these coins were Sarmatian imitations of Roman Denarii)

Sarmatians (or Goths in Crimea). 300-350 AD (5-th series). Æ Unit 19mm, 1.48g Obv: Symbol T in a circle, horizontal arm ending with dots, two dots below, rays ending with dots around Rev: O in lower field on left side of warrior with bent legs and lower part of body extended down, right holding a spear, head with one crescent on each side, crescents around the edge Ref: Not listed in Kleshchinov catalog - similar to Kleshchinov 494 (according to Kleshchinov these coins were Sarmatian imitations of Roman Denarii)

Sarmatians (or Goths in Crimea). 240-350 AD (?). Æ Unit 22mm, 5.13g Interesting example of unsuccessful attempt to use Pantikapaion base coin 90-80 BC (Anokhin Bosphorus 1986 #202) to overstrike imitation of Roman Denarii. The base coin must have been too thick resulting in a failure. Obv: Still original Pantikapaion coin Rev: Part of the original Pantikapaion coin with traces of warrior holding a spear and either O or one crescent (between 8-10 o'clock).

Coins of "unknown people"

When I got my first coin from the collection presented below (found among Kingdom of Bosporus coins I received in a batch), I became intrigued by its unique (so different than other coins) style. I started looking for additional specimens and my collection has been steadily growing.

Unknown to Western Numismatics, these coins have been researched by Russians and Ukrainians dating back to 19-th century when first specimens were found. The origin of these coins has been under ongoing debate without a consensus. There have been different ideas like Slavic, Vandals, Gothic, Roman characteristics or origins of these coins. Many researchers tend to attribute these coins to Gothic tribes that migrated and established themselves in the Crimean region in the 3-rd century AD. Being used to Roman currency, instead of adopting local Bosporan coinage for trade, Goths started minting their own imitations of Roman denarii. According to B.B. Kропоткин (Kropotkin) and  Л.H. Казаманова (Kamazanova) all later Gothic imitations of Roman denarii depict on the Reverse walking Mars (
walking Mars on the Reverse of Roman denarius
).
Recently, there is a new theory about origins of these mysterious coins presented by B.H. Kлещинов (Kleshchinov) who claims  that the coins were minted by Sarmatian tribes and Roman soldiers who instead of returning to Rome from their remote outposts assimilated themselves into local Sarmatian tribes. Kleshchinov brings the following evidence to support his theory:

1. Rome established many remote outposts not only in Crimea area (to contol pirates activities in the Black Sea) but also in
regions belonging to Sarmatian
tribes. Some of the outpost were located so far away that delivery of Roman coinage to pay soldiers for their service was extremely delayed and a need to mint local versions of the Roman denarii raised to accommodate soldiers.
2. There have been finds of specimens of these coins near Roman outposts and in different places in
Kuban region
(most in the
Taman Peninsula
where Goths dwelled - making A.Я. Сергеев (Sergeev) to name these coins "Taman Denarii") reaching as far as Northern Caucasus Mountains.
3. Many of  Roman soldiers from the remote outposts never returned to Rome but instead assimilated themselves into Sarmatians. Mintage of imitations of Roman Denarii continued.

4. Instead of depicting "Walking Mars" on the Reverse, these coins show "Sarmatian Warrior holding a spear". This could be supported by the finding of a
gravestone showing Sarmatian Warrior
in that exact position.
Kleshchinov divides the coins into 5 periods:

Period 1: 160 AD - 175 AD. Imitations minted in Silver showing recognizable heads of Roman Emperors (Antoninus Pius and Septimius Severus) on the Obverse with various motifs (including Funeral Pyre) with barbarized legends on edges on the Reverse

Period 2: 175 AD - 200 AD. Imitations minted in Silver showing a barbarized head of Roman Emperor on the Obverse with a motif of Sarmatian Warrior holding a spear (different positions, sometimes in one hand) accompanied by various additions of crescents, dots, crosses etc. on the Reverse

Period 3: 200 AD - 240 AD. Imitations minted in Siler showing a barbarized (degraded) head of Roman Emperor on the Obverse with a motif of Sarmatian Warrior holding a spear in two hands, accompanied by various additions of crescents, dots, crosses etc. on the Reverse

Period 4: 240 AD - 300 AD. Imitations minted in Silver and Bronze showing a barbarized (extremely degraded - sometimes only resembling) head of Roman Emperor on the Obverse with a motif of Sarmatian Warrior holding a spear in two hands, accompanied by various additions of crescents, dots, crosses etc. on the Reverse

Period 5: 300 AD - 350 AD. Imitations minted in Bronze and some Silver showing anthropomorphic or zoomorphic form of a head of Roman Emperor or symbols of a cross on the Obverse with a motif of Sarmatian Warrior holding a spear in two hands, accompanied by various additions of crescents, dots, crosses etc. on the Reverse


Sarmatians (or Goths in Crimea). 240-300 AD (4-th series). AR Unit. 17mm, 1.60g. Obv: Barbarized head of Roman Emperor with beard in form of dots facing right, zigzag in front of the face, rays up and behind head Rev: X lower left field and O lower right field on sides of warrior standing right, holding a spear, with one crescent on each side of the head, crescents around the edge. Ref: Kleshchinov 324 (according to Kleshchinov these coins were Sarmatian imitations of Roman Denarii)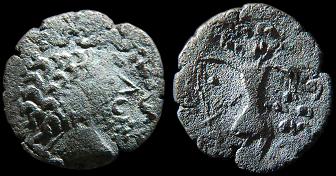 Sarmatians (or Goths in Crimea). 175-200 AD (2-nd series). AR Unit. 18mm, 2.27g. Obv: Barbarized head of Roman emperor with beard facing right, hair in form of crescents, head laureate, waves in exchange with dots in front of face and dots behind face arond the edge Rev: Warrior standing right, holding a spear, dot between left arm and spear, 2 dots and 3 crescents below right arm, crescents (and dots?) above the head, crescents around the edge (?) Ref: Not listed in Kleshchinov catalog (according to Kleshchinov these coins were Sarmatian imitations of Roman Denarii)

Sarmatians (or Goths in Crimea). 200-240 AD (3-rd series). AR Unit. 17mm, 1.68g. Obv: Barbarized head of Roman emperor with beard facing right, crescent below the neck, dots around edge Rev: Warrior standing left, holding a spear, crescent above and below left arm, crescents around warrior, dots around edge Ref: Not listed in Kleshchinov catalog - obverse similar to Kleshchinov 94 (according to Kleshchinov these coins were Sarmatian imitations of Roman Denarii)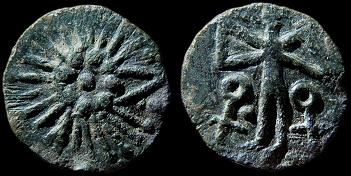 Sarmatians (or Goths in Crimea). 300-350 AD (5-th series). Æ Unit 17mm, 1.21g Obv: Barbarized head of Roman emperor in form of rosette of crescents facing right, rays ending with dots behind, above and below head, two dots in front of the head Rev: OX lower left and right field on sides of warrior standing left holding a spear, head with one crescent on each side, crescents around the edge Ref: Kleshchinov 391 (according to Kleshchinov these coins were Sarmatian imitations of Roman Denarii)

Sarmatians (or Goths in Crimea). 300-350 AD (5-th series). Æ Unit 18mm, 1.65g Obv: Barbarized head of Roman emperor in form of rosette made of dots, dot in the middle, facing right, rays ending with dots behind, above and below head, two dots in front of the head Rev:OX and dot lower left field, OX lower right field on sides of warrior standing left holding a spear, head with one crescent on each side, crescents around the edge Ref: Kleshchinov 392 (according to Kleshchinov these coins were Sarmatian imitations of Roman Denarii)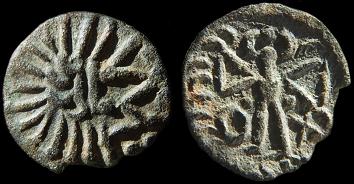 Sarmatians (or Goths in Crimea). 300-350 AD (5-th series). Æ Unit 17mm, 1.13g Obv: Barbarized head of Roman emperor facing right, hair in form of crescents, face in form of zigzag, two vertical lines in the middle, neck in form of dots, rays ending with dots around head, dots in front of the face Rev: Dot and O lower left field, dot and X lower right field on sides of warrior standing left holding a spear, head with one crescent on each side and dot above, crescents and dots around the edge Ref: Specimen #1- Kleshchinov 429 (according to Kleshchinov these coins were Sarmatian imitations of Roman Denarii)

Sarmatians (or Goths in Crimea). 300-350 AD (5-th series). Æ Unit 18mm, 1.40g Obv: Barbarized head of Roman emperor facing right, hair in form of crescents, face in form of zigzag, two vertical lines in the middle, neck in form of dots, rays ending with dots around head, dots in front of the face Rev: Dot and O lower left field, dot and X lower right field on sides of warrior standing left holding a spear, head with one crescent on each side and dot above, crescents and dots around the edge Ref: Specimen #2 (like above)- Kleshchinov 429 (according to Kleshchinov these coins were Sarmatian imitations of Roman Denarii)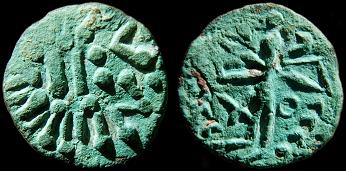 Sarmatians (or Goths in Crimea). 300-350 AD (5-th series). Æ Unit 18mm, 1.46g Obv: Barbarized head of Roman emperor facing right, hair in form of dots, face in form of zigzag and dots, two vertical lines in the middle, rays ending with dots around head Rev: X lower left field, O lower right field on sides of warrior standing left holding a spear, head with one crescent on each side and dot above, crescents around the edge Ref: Kleshchinov 515 (according to Kleshchinov these coins were Sarmatian imitations of Roman Denarii)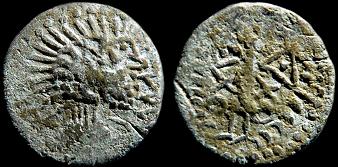 Sarmatians (or Goths in Crimea). 240-300 AD (4-th series). AR Unit 17mm, 1.70g. Obv: Barbarized head of Roman emperor with beard facing right, hair in form of crescents, four lines in the middle, neck in form of vertical lines, rays above and behind head, zigzag at the front of the face and below, dots around the edge. Rev: XO and row of crescents low left and right field, on sides of warrior standing left, holding a spear, dot between each arm and spear, head with one crescent on each side, dots around the edge. Ref: Kleshchinov 108 (according to Kleshchinov these coins were Sarmatian imitations of Roman Denarii)

Sarmatians (or Goths in Crimea). 300-350 AD (5-th series). Æ Unit 17mm, 1.06g Obv: Barbarized head of Roman emperor facing right, hair in form of crescent, two vertical lines in the middle, rays ending with dots behind, above and below head, two dots in front of the head Rev: O lower left field, X lower right field on sides of warrior standing left holding a spear, head with one crescent on each side, crescents and dots around the edge Ref: Kleshchinov 428 Specimen #2 (like above) (according to Kleshchinov these coins were Sarmatian imitations of Roman Denarii)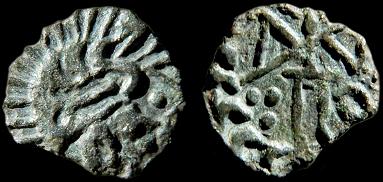 Sarmatians (or Goths in Crimea). 300-350 AD (5-th series). Æ Unit 16mm, 1.21g Obv: Barbarized head of Roman emperor facing right, hair in form of crescents bending upwards, two lines under angle in the middle, rays ending with dots above behind and below head Rev: Three dot lower left field and O lower right field on both sides of warrior standing right holding a spear, head with one crescent on each side, crescents around the edge. Ref: Not listed in Kleshchinov catalog (according to Kleshchinov these coins were Sarmatian imitations of Roman Denarii)

Sarmatians (or Goths in Crimea). 300-350 AD (5-th series). Æ Unit 16mm, 1.00g Obv: Something that resembles barbarized head of Roman emperor made of crescent patterns facing right, dots in front, rays around Rev: O lower left and right field on both sides of warrior standing facing holding a spear, arc with bends to the left and right above head, dots above arc (?), crescents to the right around the edge Ref: Not listed in Kleshchinov catalog - similar to Kleshchinov 497 (according to Kleshchinov these coins were Sarmatian imitations of Roman Denarii)

Sarmatians (or Goths in Crimea). 300-350 AD (5-th series). Æ Unit 17mm, 1.62g Obv: Something that resembles barbarized head of Roman emperor facing right in form of rosette made of dots, three small horizontal sqaures at the center (?) - worn out, rays above, behind and below, dots in front Rev: O (without a dot at the center) in lower field on both sides of warrior standing right holding a spear, arc with bends to the left and right above head, dots above arc, dots and crescents around the edge Ref: Not listed in Kleshchinov catalog - similar to Kleshchinov 454(?) (according to Kleshchinov these coins were Sarmatian imitations of Roman Denarii)

Sarmatians (or Goths in Crimea). 300-350 AD (5-th series). Æ Unit 17mm, 1.46g Obv: Something that resembles barbarized head of Roman emperor facing right in form of rosette made of dots, dots at the center (some worn out but still visible), two thick lines extending to the right with dots, rays above, behind and below, dots in front Rev: O (without a dot at the center) in lower field on both sides of warrior standing right holding a spear, arc with bends to the left and right above head, dots above arc, dots and crescents around the edge Ref: Not listed in Kleshchinov catalog - Kleshchinov 453 (according to Kleshchinov these coins were Sarmatian imitations of Roman Denarii)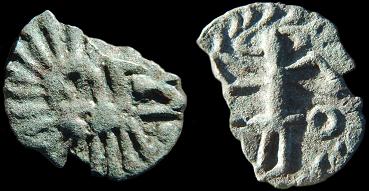 Sarmatians (or Goths in Crimea). 300-350 AD (5-th series). AR Unit 19mm, 1.37g Obv: Barbarized head of Roman emperor facing right, hair in form of crescent, two vertical lines in the middle, rays ending with dots behind, above and below head Rev: X lower left and O lower right field on sides of warrior standing left holding a spear, head with one crescent on each side, crescents around the edge Ref: Not listed in Kleshchinov catalog (according to Kleshchinov these coins were Sarmatian imitations of Roman Denarii)

Sarmatians (or Goths in Crimea). 240-300 AD (4-th series). AR Unit. 19mm, 2.46g. Obv: Barbarized head of Roman Emperor with beard (in form of dots - lower right field, barely visible) facing right, hair in form of crescents, three horizontal lines in the middle, zigzag in front of the face, rays up behind and below head Rev: X lower left field, O lower right field on sides of a warrior standing left, holding a spear, crescents on the edge oriented towards the edge. Ref: Not listed in Kleshchinov catalog - similar to Kleshchinov 287 (according to Kleshchinov these coins were Sarmatian imitations of Roman Denarii)

Sarmatians (or Goths in Crimea). 300-350 AD (5-th series). Æ Unit 15mm, 0.83g Obv: Barbarized head of Roman emperor facing right, front of the face made of crescents, rays around Rev: X (?) and three dots lower left field, dot lower right field(?) on sides of warrior standing left(?) holding a spear, head with one crescent on each side, crescents around the edge. Ref: Not listed in Kleshchinov catalog (according to Kleshchinov these coins were Sarmatian imitations of Roman Denarii)

Sarmatians (or Goths in Crimea). 300-350 AD (5-th series). Æ Unit 16mm, 1.28g Obv: Something that resembles barbarized head of Roman emperor facing right with beard represented by crescents, hair in form of crescents, two vertical lines in the middle, rays around (ending with dots?) Rev: Dot lower left and right field on both sides of warrior standing left holding a spear, head with one crescent on each side, crescents around the edge. Ref: Not listed in Kleshchinov catalog (according to Kleshchinov these coins were Sarmatian imitations of Roman Denarii)

Sarmatians (or Goths in Crimea). 300-350 AD (5-th series). Æ Unit 17mm, 1.79g Obv: Barbarized head of Roman emperor facing right, beard in form of crescents, front of the face in the form of zigzag with dots above, two lines in the middle under angle, rays ending with dots above behind and below head Rev: X lower left field and O lower right field on sides of warrior standing right holding a spear, crescents on both sides of the head (?), crescents around the edge. Ref: Not listed in Kleshchinov catalog (according to Kleshchinov these coins were Sarmatian imitations of Roman Denarii)

Sarmatians (or Goths in Crimea). 300-350 AD (5-th series). Æ Unit 18mm, 1.75g Obv: Barbarized head of Roman emperor facing right, hair in form of crescents bending downwards, face in form of zigzag, rays ending with dots around head, dots in front of the face (barely visible) Rev: O lower left and right field on sides of warrior standing left holding a spear, head with one crescent on each side and dot above, crescents around the edge Ref: Not listed in Kleshchinov catalog (according to Kleshchinov these coins were Sarmatian imitations of Roman Denarii)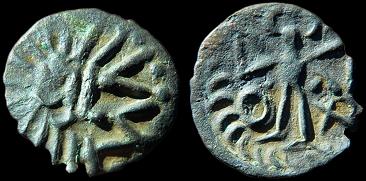 Sarmatians (or Goths in Crimea). 300-350 AD (5-th series). AR Unit 15mm, 0.61g Obv: Symbol T in a circrle, 1 dot left, 2 dots above cross - one directly and the other to the right, 3 dots below in the left field and 2 dots right field on sides of the T symbol, rays around Rev: dot X and dot in lower left field, X lower right field(?) on sides of warrior standing  left holding a spear, dots below warior's feet,crescents around the edge Ref: Not listed in Kleshchinov catalog - similar to Kleshchinov 489 (according to Kleshchinov these coins were Sarmatian imitations of Roman Denarii)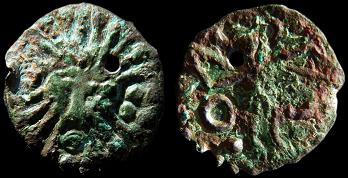 Sarmatians (or Goths in Crimea). 300-350 AD (5-th series). Æ Unit 17mm, 1.13g Obv: Cross at the center, arms ending with dots, 1 dot left and 1 dot right above arms, 2 dots right below arms, rays ending with dots around - broken with dots right (4 dots), below (3 dots)Rev: O and dot in lower left field, O lower right field on sides of warrior standing right holding a spear, head with one crescent on each side and dot above head, crescents around the edge Ref: Not listed in Kleshchinov catalog (according to Kleshchinov these coins were Sarmatian imitations of Roman Denarii)

Sarmatians (or Goths in Crimea). 300-350 AD (5-th series). Æ Unit 18mm, 1.52g Obv: Barbarized head of Roman emperor with beard represented by dots facing right, hair in form of crescent (visible at the back of head), two very long vertical lines in the middle with 2 dots below, rays above and behind head Rev: O lower left field and X lower right field on sides of warrior standing left holding a spear, head with 2 dots (or crescent) on the right side, crescents around the edge. Ref: Not listed in Kleshchinov catalog (according to Kleshchinov these coins were Sarmatian imitations of Roman Denarii)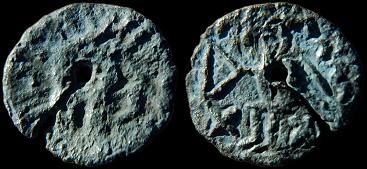 Sarmatians (or Goths in Crimea). 240-300 AD (4-th series). AR Unit. 18mm, 1.67g. Obv: Barbarized head of Roman Emperor facing right, rays above and behind head, dots in front and below head the Rev: X lower field on both sides of a warrior standing left, holding a spear, left hand with spear in form of triangle, head with one crescent on each side, crescents on the edge oriented towards the edge. Ref: Kleshchinov 292 (according to Kleshchinov these coins were Sarmatian imitations of Roman Denarii)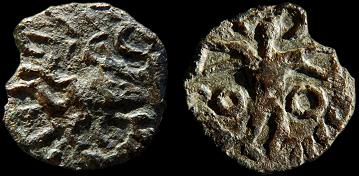 Sarmatians (or Goths in Crimea). 240-300 AD (4-th series). Æ Unit. 17mm, 1.76g. Obv: Elements of barbarized head of Roman Emperor (with elongated face) facing right, hair in form of crescents, crescents below head, rays above behind and below, dots in front (barely visible) Rev: O lower field on both sides of warrior standing right, holding a spear, head with one crescent on each side, crescents around the edge Ref: Not listed in Kleshchinov catalog Variant #2 (face elongated)- similar to Kleshchinov 338 (according to Kleshchinov these coins were Sarmatian imitations of Roman Denarii)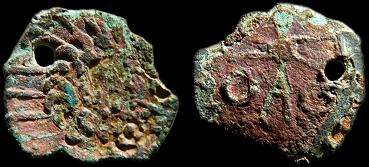 Sarmatians (or Goths in Crimea). 240-300 AD (4-th series). Æ Unit. 17mm, 1.11g. Obv: Barbarized head of Roman emperor with beard facing right, hair in form of crescents, three lines in the middle under angle, rays above and behind head, zigzag if front of the face Rev: O and dot in lower left and right field on both sides of warrior standing right, holding a spear, head with one crescent on each side, crescents around the edge. Ref: Not listed in Kleshchinov catalog - similar to Kleshchinov 375 - this type is listed under 5-th series in catalog (according to Kleshchinov these coins were Sarmatian imitations of Roman Denarii)

Sarmatians (or Goths in Crimea). 300-350 AD (5-th series). Æ Unit 17mm, 1.20g Obv: Barbarized head of Roman emperor facing right, hair and beard in form of rosette made of crescents and two lines under angle in the middle, rays ending with dots above, behind and below head Rev: O left field (?) and O lower right field on sides of warrior standing left holding a spear, crescents around the edge Ref: Not listed in Kleshchinov catalog (according to Kleshchinov these coins were Sarmatian imitations of Roman Denarii)